Now Is The Time To Relax And Save Money!
Save money on your next spa treatment, whether at your local spa or other treatment provider or when visiting an exotic destination on your next vacation or getaway.
Whether you want to indulge yourself or treat your significant other to the perfect romantic gift, spa visits and treatments can be the ultimate way to help unwind and relax.
Acupressure
Aromatherapy
Couples massage
Hot stone massage
Lomi lomi massage
Lymph drainage massage
Myofascial release

Reflexology
Swedish massage
Thai massage
Acne/deep cleansing facial
Anti-aging facial
Glycolic acid facial
Oxygen facial

Manicure
Pedicure
Salt body scrub
Sugar body scrub
Herbal body wrap
Vinotherapy
Thalassotherapy
SpaFinder Is All You Will Need With Over 5,000 Spas To Choose From
Most commonly a spa can provide one or more popular treatments, especially a massage or facial, however, for the very best that a spa can offer, visitors can indulge for the entire day or multiple days. SpaFinder is a convenient online destination that is the premiere source for locating spas throughout the world. With over 5,000 spas listed, it is easy to find what you want and where you want.
SpaFinder really is the one source for everything you could possibly want, when it comes to massages, treatments and more. Nothing really could be better than a day at the spa. When you visit the providers website, you can search for and browse the available spas in the area that you want. In some cases you can even book a treatment for the day and time you want, or follow the simple instructions listed for that specific spa that will allow you to contact them directly to book your specific treatment, all while paying for service with SpaFinder Gift Certificates that you are able to purchase at the exclusive member savings of 10% off.
Here are just few of the more luxurious spas to visit in North America.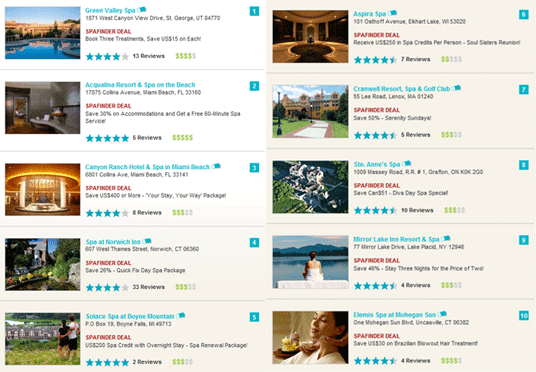 SpaFinder is best known for their convenient and simple to use SpaFinder Gift Certificates that can be purchased online at their website and then either given away as ideal gifts to friends, family and co-workers or even used yourself. As a gift, your recipient(s) will be able return as instructed to the providers website where they can then choose the spa and treatment desired, paying online when booking their appointment if that spa offers such online bookings or by following other listed instructions by calling and visiting the spa and paying with a SpaFinder Gift Certificate. Nothing could be easier and more convenient.
For your own use, after you receive your purchased SpaFinder Gift Certificates that you were able to use your exclusive member benefit to receive 10% off your purchase, you will be able to either use them to pay for treatments that you select and book online or bring into the spa of choice, as instructed, to pay for services.
When searching on the SpaFinder website, you will be able to easily view specific listings for each spa, providing a detailed information related to that specific spa. Each listing will also detail any special offers or deals and provide simple contact information and instructions for booking certain treatments and inform you if they accept SpaFinder Gift Certificates. Certain Spas allow for actual treatment appointments to be set with payment made online using SpaFinder Gift Certificates.
In addition, take advantage of a wealth of useful and informative resources that are also available online at the SpaFinder webstie.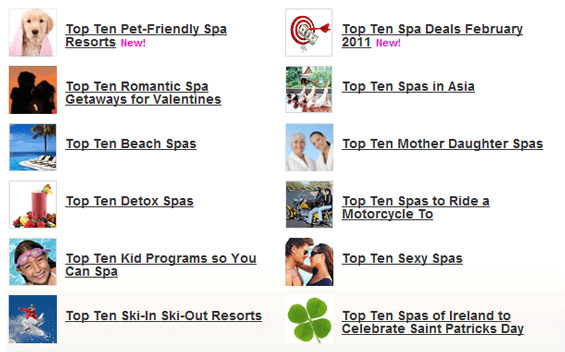 While viewing the available listings, you will be able to note within that listing if a particular spa is offering any special offers or other Spa deals that may be used for significant savings of up to 55% off or more.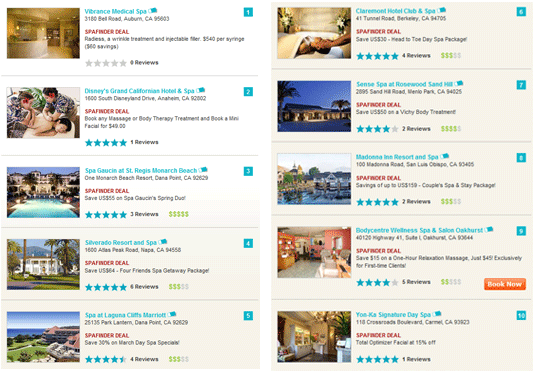 As a member, you are entitled to receive an additional 10% off the available listed treatments and spa visits that are available through our provider, where the largest selection of available spas are listed. Perfect for yourself or as the ideal gift, now is the time to save 10% off on the ultimate in pampering and luxury.
To redeem and use this valuable member benefit, simply visit our provider's website by clicking on the button/link below. During checkout, you will be prompted to enter the Discount Code, also listed below that will allow members to save an additional 10% off. Please make sure to visit the provider by clicking the button/link below to go to a specific web page on the providers website that features the 10% off member benefit, prior to purchasing SpaFinder Gift Certificate(s) using the available Discount Code to save 10% off on your purchase.
- Discount Code -

SPADEAL
- Click To Visit The Online Provider -
SpaFinder