You have just discovered one of the most unique and innovative product lines that really does make the most incredible gifts for friends, family and co-workers.

Amazing Clubs offers a large variety of specialty products such as beer, cheeses, desserts, and more, all available to be sent to your gift recipients in monthly or quarterly shipments.

Great Selection - Choose The Duration
Each Amazing Club Package can be purchased in the following durations.

1 Month Packages
3 Month Packages
6 Month Packages
12 Month Packages
You can give a gift to a treasured recipient that quite literally could last all year long!
Select the specific club that you want and choose the duration of your gift. With so many great product clubs, there is quite literally something for just about anyone and everyone.
You have heard of exciting gift clubs like this before, where you can give a product or type of specific club to a single recipient whereby they receive each month a shipment related to their club type. Choose from such popular product types as Cheese of the Month, Fruit of the Month, Beer of the Month and more. Every month get something new and exciting. With Amazing Clubs, you have the widest selection of such popular clubs to satisfy the most discerning of tastes.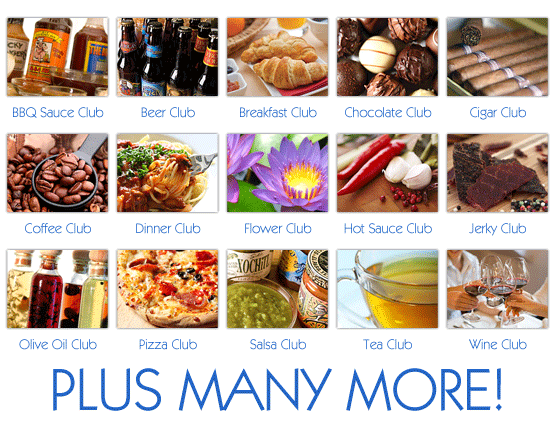 Once you use this valuable benefit to save 20% off on your order of Amazing Club Gift Cards, you will be able to delight in saving money on the most spectacular line of dining related products from Amazing Clubs. When you want the most unique products to give to friends, family and other special gift recipients, then there is no need to look further because Amazing Clubs products are everything you could possibly want. In addition, you can choose to give these popular clubs to your recipients for as little as 1 month or as long as 12 months.
As a member, you are able to take advantage of this great opportunity to save 20% off the purchase of any Amazing Club products for yourself or as the greatest gifts. Choose from a variety of club type options and multiple program durations, all while saving 20% off your purchase with this exclusive member benefit that allows you to save money when purchasing Amazing Club Gift Cards.
This exclusive member benefit makes it very simple to give the perfect gift for just about anyone and for any occasion. Simply purchase Amazing Club Gift Cards at 20% off and then either give those gift cards away to your lucky gift recipients or use them online at our providers website to purchase and pay for the actual clubs that you want for yourself or your gift recipients. Choose from the widest selection of popular products.
Please Note: There is a per member, per year limit of $500 in Amazing Club Gift Card purchases that can be made using this benefit. Member must be active and in good standing to place an order.
To redeem and use this valuable member benefit, simply click on the button/link below to view the Amazing Clubs Gift Card Order Form that you will be able to view and print then use to place a gift card order, as instructed, to receive your 20% off member benefit.