Save money on dining when you use this valuable Dining Certificate from Restaurant.com. You can choose the restaurant you want to use your certificate at from a list of over 10,000 participating restaurants.

Everyone eats out and everyone likes to save money, and that's why Restaurant.com Dining Certificates are the perfect answer, enabling you to save money when dining at the restaurants that you choose.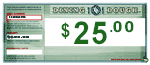 Typically, a $25 Restaurant.com Certificate is sold online directly from Restaurant.com for only $10 if you visit their website. Each Restaurant.com dining certificate is valid towards the total food bill at their chosen restaurant, with each participating restaurant determining a minimum food bill requirement for the certificate to be used. As an example, you could be required to have a minimum bill of $60 at the restaurant where you want to use your $25 Restaurant.com Certificate, which still means you save $25 off of that bill. If you purchased the Restaurant.com Certificate that you used for $10, in the above example you would have realized a net savings of $15.
This really is a great way to save money when dining out at the restaurants that you choose. Simply order the certificates directly from Restaurant.com and to redeem, you browse their website for available participating restaurants within the area that you specify. You can learn more about this fabulous dining benefit by clicking the button below to visit Restaurant.com.
Some people use Restaurant.com Certificates to save money when dining out weekly or monthly at their favorite restaurants. Now is the time to plan ahead and get the most for your money by really taking advantage of the savings potential by using Restaurant.com Certificates.
Wouldn't it be a better way to save money if you only paid $3.00 or less for those same $25 Restaurant.com Certificates that usually cost $10 if purchased directly from Restaurant.com?
This popular dining savings opportunity can let you save even more money when dining out if you only have to pay $3.00 or less to purchase a Restaurant.com Certificate that gets you $25 off of your meal, for a net savings of $22.
PLAN AHEAD WHEN YOU PURCHASE YOUR RESTAURANT.COM CERTIFICATES
Every so often, on an infrequent basis our members are able to take advantage of huge savings with special discount offers direct from Restaurant.com that offer additional savings of 70% or more off of the standard $10 cost for a $25 Certificate.
These opportunities are scarce, but when they do happen, members can purchase any number of Restaurant.com Certificates they choose, with the option to purchase certificates with even higher denomination values for greater savings.
BECAUSE OFFERS OF 70% OFF ARE RARE, MAKE SURE YOU ORDER SOME FOR LATER USE. YOU NEVER KNOW WHEN THE NEXT OPPORTUNITY WILL COME AROUND AGAIN.
This member benefit is not unique, but is instead, a way to communicate to members certain Restaurant.com special offers that are only available for a limited time, and only on rare occasions.
To take advantage of these rare savings opportunities, please check back periodically to visit our providers fulfillment website by clicking the button/link below, where you will be able to view the very best current Restaurant.com offers that are available. It is important to note that you must follow the instructions and make any purchases by going to the fulfillment website that you will get through the benefit fufillment website that will list the most valuable Restaurant.com special offers. You will be able to visit this fulfillment website by clicking the button/link below. Access to the providers website should only be obtained through the button/link below to ensure that as a member that you have access to the most current information and offers from our provider's website.
Through our special relationship with our providers fulfillment website, members will be able to receive special free gifts when purchasing discounted Restaurant.com Certificates. These special free bonus gift offers are in addition to the unique special offers from Restaurant.com and information on both of these opportunities are clearly detailed on our providers fulfillment website.