The perfect member benefit that allows members to save money when using a great solution to help protect your children when they are

imView™ Product Overview

imView™ is the next significant step in trying to meet the needs of parents with online teens and younger children. imView™ offers parents the ability to monitor their child's online activity from anywhere they have an Internet connection.

imView's software is easily downloaded to your child's PC, where it will capture all their online activity including IM Chat, Email, Website visits, and all Keystrokes. While imView™ captures this activity, it also posts it to our secure website for parents to monitor and review where their child is going online and who they are talking to.
By being easy to use, deploy, and update; imView™ meets the needs of the most non-technical parents and by effectively monitoring IM, Email, and online content from anywhere in the world, imView™ meets the needs of even the most demanding technical user.
imView™ allows parents to log into their account, via our secure website, and view all their child's activity in real time from any PC, anywhere in the world that they have internet access.
Additionally, parents can easily opt to receive real time e-mail alert notifications with messages attached. This gives parents the power to be proactively notified the moment their child's online behavior strays outside of the acceptable limits that they set.
As a value add to concerned parents, imView™ has partnered with the most comprehensive database in the US; using the most sophisticated search tools for identifying registered sex offenders. We currently extract the public information from all 50 states every 2 weeks. On a typical day NPD processes over 3,000 records with changes in data or photos from the previous 2 weeks. In any typical week the data increases by 3-5,000 new predators. To get a feel for this data, please view our Predator Map.
One of the most sophisticated and best features is the ability to rapidly find predators with very little input. For example, if you click "Quick Search" on www.nationalpredatordatabase.com, and by entering a zip code, a radius, an approximate age and height, we can rapidly display a handful of photos to check for predators, without even knowing their name or alias.
You as a user can also sign up to receive alerts anytime the database is updated with additional sex offenders in your area.
ImView is actively supplying local law enforcement with this powerful tool, but are providing it here free.

Simple To Use


Low Cost


Great Savings For Members


Monitor Your Children


Easy Protection That Works

Alarming Online Facts
The internet is a fantastic world for your child to explore. IM and Email are powerful communications tools, and they should learn to use them. The wealth of knowledge and socialization that your child can gain by going online is tremendous…and growing every day. They should be encouraged to take advantage of all there is to do online and parents should feel comfortable with their safety while they are online. That is where imView™ is hoping to help. But before you can appreciate the value imView™ offers and all the ways it is going to help, you first have to know the considerable risks that exist online, and some of the figures below will help shed some light on the level of risk out there today.

* 1 out of 5 kids have been solicited sexually online

* One third of kids have been contacted by a stranger and half of these were considered inappropriate

* 9 out of 10 parents will never know that any inappropriate contact has occurred

* 14% have actually met face to face with a person they have met on the Internet

* 1 out of 17 kids have been harassed, threatened, or bullied

* Nearly three-quarters (73%) of online teens believe that someone their age is most likely to be approached by someone unknown to them online as opposed to offline

* When asked how they responded the last time they were contacted online by a complete stranger, just 3% of online teens said they told and adult or authority figure

* Most kids will not report inappropriate Internet contact to their parents because they are afraid of losing Internet privileges

* 61% of 13-17 yr olds have a personal profile on social networking sites

* 44 percent of online teens with profiles like Facebook and Myspace have been contacted by a stranger, compared with 16 percent of those without profiles.

* 71% have reported receiving messages from someone they do not know

* 45% have been asked for personal info from people they do not know

* 48% of 16-17 yr olds report that their parents know "very little" or "nothing" about their online activities

* MySpace deletes 25,000 profiles weekly of users who don't meet the site's 14-year-old minimum age requirement
- Pew Internet & American Life Project Research & Cox Communications Teen Internet Safety Survey - 2007
This is an exciting member benefit for parents that will give them peace of mind while saving money.
View all your child's online activity:
• Monitor instant message and chat logs
• View all inbound and outbound email messages
• Capture the history of every webpage visited
• Take of any website visited
• Keep a history of every keystroke
• All activity monitored discreetly and in real-time
• Monitor from anywhere you have internet access
Keep children safe online with imView™
How it Works - Just 3 Easy Steps




Download imView™ onto the PC or laptop you want to monitor.


Once installed, imView™ discretely captures all of the computers activity and stores it remotely.


It can be easily accessed and reviewed ... whenever AND WHERE-EVER it is most convenient.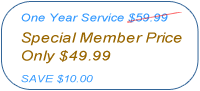 To take advantage of this tremendously valuable offer, simply click the button link below to visit our vendor's fulfillment website to learn more about this very important service and to make your purchase. It is simple to implement and will provide you with that extra sense of security when your children are using a computer.